Wright Brothers 2003 Centennial brings McVey Press
Folklore, Photographs and Fun Reading:
Family photo was taken on the homestead near Rago of Clyde and his wife Europa with my dad and uncle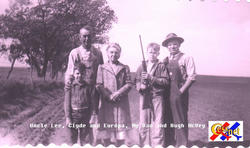 Cessna's role in aviation stirs pride in descendant
By Ramsey Campbell
Sentinel Staff Writer
July 6, 2003
If starched white collars and bowler hats brought an air of dignity to Orville and Wilbur Wright's experiments, then one might say overalls and sheer grit marked Clyde Cessna's spunk.
The Wrights, who made their historic first flight at Kitty Hawk, N.C., in 1903, were engineers and scientists known for their flying accomplishments. But it was up to later pioneers like Cessna, a farm boy from Kansas, to make the miracle of aviation practical.
"The Wright brothers were well-educated engineers, professionals," said Michael McVey, a South Lake High School teacher and Mount Dora resident. "Clyde was a dirt farmer."
This year's designation as the 100th anniversary of flight has special meaning for McVey, who is the great-grandson of Clyde V. Cessna. Although Cessna died nine years before McVey was born in 1963, he heard his grandmother and other family members talk extensively about him.
McVey has pretty much become a family historian, he said, trying to preserve the family's aviation legacy, even though they have no real tiesto the company now synonymous with general aviation. It was an interest sparked in childhood and fueled by the stories he was told.
"My dad never had any part of it, which I always thought was odd," he said. "So I guess you can say it's curiosity."
The story began, though, in the rural fields of Kansas with a young man who believed he could do things others thought were impossible.
Born in Iowa in 1879, Clyde Cessna and his family moved to Kansas when he was only a year old. He grew up in the family homestead east of Rago, Kan., with a greasy thumb and a knack for fixing all things mechanical.
He got his first job as service man for a farm-equipment dealer in Rago and later hooked up with an Overland automobile dealership in Enid, Okla.
It wasn't until he was 31, in early 1911, he watched an air circus over Oklahoma City, that he became interested aviation.
Stunned by the ability of the planes to soar through the air and particularly fascinated by a monoplane -- which was the duplicate of onethat set a speed record for flying across the English Channel in a mere 37 minutes -- Cessna immediately began taking notes. He watched workers dismantle the planes to go by train to the next city.
Back in Enid, he rented a garage and started to build his own airplane using a mail-order fuselage. He figured if he could repair farm machinery, then he could make an airplane fly.
His brother, Roy, helped out, working on the engine.
By May 1911, they were ready to test their creation on the plains 40 miles northwest of Enid. But beforethey could get it off the ground, the plane buried its nose in the ground.
After a few bruises and about $100 of damage to the plane, the brothers went back to the garage. It took a dozen such crashes to finally get it right.
"I will never forget my grandmother telling me Clyde would buzz the farmhouse as he finished off his fuel before ditching the plane in the pond," McVey said. "She would bring the lemonade and the tractor so they could drag the machine to the barn for repairs."
Clyde got off the ground on the 13th try, rose about 100 feet in the air before cutting off the power and landing -- in one piece -- just in front of a stand of box elder trees.
Then it got easy.
By September of that year, Cessna was booking regular aerial exhibitions over Oklahoma to show off his prowess in the air.
He moved back to Rago at the end of 1911 and began to modify his plane, dubbing it Silver Wings. He was piloting it from one exhibit to another and making money from shows throughout the two-state area.
Just eight years after the Wright Flyer took off at Kitty Hawk, Clyde Cessna, with help from his brother,crisscrossed the skies over Kansas and Oklahoma in a homemade plane.
Success upon success
Today, the Wichita-based Cessna Aircraft Co., which the Cessna family started in 1927, is the fourth-largest maker of business jets in the country and one of the most famous names in small planes.
The company reported $3.3 billion in sales for 2002.
"The influence of Cessna Aircraft Co.in aviation is absolutely immense," said John Frank, executive director of the 15,000-member Cessna Pilots Association.
"Literally throughout the world, people know the name Cessna," Frank said. "Today anyone who is a pilot has learned to fly or has done some flying in a Cessna."
But Clyde Cessna never really considered making planes as a business until a Wichita automobile manufacturer offered him space in his factory in the fall of 1916.
He accepted the offer and built two planes in the Jones Motor Car plant with a staff of five. They produced the first aircraft built in Wichita.
Cessna had aflight a day scheduled, but his aerial career and fledgling business as an aircraft builder was shortened by America's entry into World War I. Clyde spent the war years on the family farm.
After the war, however, a newfound enthusiasm for flying machines swept the nation.
Along with several family members -- his brother Roy; son, Eldon; and daughter, Wanda -- he formed the Cessna Aircraft Co. in 1927.
While others focused on the more traditionalbiplane, Cessna eyed faster, cheaper monoplanes to carry mail and passengers.
He perfected his full-cantilever-winged monoplane called the Phantom. The Depression, however, forced the Cessna company to close its doors on commercial-aircraft production in 1931 and the death of a close friend in a Cessna-built plane left Clyde devoid of enthusiasm for aviation.
Two cousins, however, revived the company in 1934 with new marketing skills and the company's development of the C-34 -- a sleek, four-passenger monoplane -- enabled it to become an aviation powerhouse.
McVey said there might have been some resentment of the cousins, Dwane and Dwight Wallace, who took over the company and ran it until the 1950s.
Eldon, Wanda -- McVey's grandmother -- and some of the other family quit the business and moved to California to work in the aircraft industry there.
Clyde went back to farming.
Keeping legacy alive
While McVey's family has no formal connection to the Cessna company now, McVey doesn't forget his great-grandfather's contributions to air travel or the stories his grandmother passed along.
He attended Clyde Cessna's posthumousinduction into the International Aerospace Hall of Fame in San Diego's Balboa Park in 1983 and a few years ago put together an Internet business aimed at Cessna enthusiasts and pilots. He has visited the family homestead and looked at the grave sites of the family members.
He grew up in Roswell, N.M., and came to Lake County four years ago. He lives with his wife and three children in Mount Dora.
He's passing along the legacy to them as well.
"They think it is a huge deal. They often ask me -- the oldest, 10, Phoebe -- 'Does that mean I'm famous, Daddy?; and I tell her, 'No, you must build or fly a plane yourself; then you might be considered one of the famous offspring of Clyde Cessna.' "
Perry, 8, wants to be a Navy Seal or a Marine, but "the youngest, 5, Miranda, just doesn't think that anything can hold her back from flying," McVey said.
McVey teaches high-school business and computer classes and, like his great-grandfather, has a sense of adventure, riding a red, white and blue motorcycle.
But one thing he doesn't do yet is pilot airplanes himself.
He hopes to get hispilots license by 2011 -- in time for the 100th anniversary of Clyde Cessna's first flight. He hopes to fly around Kansas and Oklahoma in his great-grandfather's honor.
Ramsey Campbell can be reached atrcampbell@orlandosentinel.com
or 352-742-5923.

Copyright © 2003, Orlando Sentinel